Can you use clear plastic from the fabric dept to make strips for a chocolate collar for cakes?
Posted on August 15, 2017 | in Information - FAQ's | by David Rinner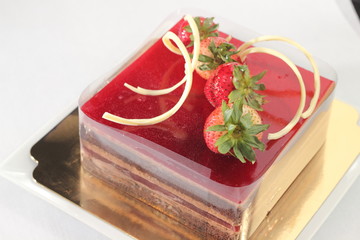 Acetate Liners are fully sanctioned by the FDA for direct food contact. The Acetate Materials found in the fabric dept are most probably not FDA approved.
Wrap the acetate around your cake to keep the filling in place (or the cake from drying out), or use it to line a cake ring before assembling your mousse. It's commonly used by Chocolatiers for designing their own chocolate decorations, as acetate sheets have a glossy coating which lend a shine to the chocolates while also assisting in easy removal of the decorations. Acetate sheets posses a firm and rigid shape and can be easily peeled off your cake and decorations.
Acetate Liners are available in many sizes and thicknesses to suit your specific needs.
Our Acetate Sheets measure 16″ x 24″ and are 4 mil thick. They are also known as Guitar Sheets and are most commonly used for chocolate work.
Our Acetate Strips are precut bands and are available in many sizes ranging from 1-3 inches wide x 6-30 inches long. These are more pliable and are only 2.75 mil thick.
Our Acetate Rolls are 4 mil thick and range from 1 – 5 inches in width x 500 ft. long.
Our Acetate Collar are 2.75 mil thick and are available 2-4 inches wide x 28 inches long.
Shop acetate sheets.
See similar questions.