What is a disposable jelly roll pan?
Posted on December 1, 2016 | in Information - FAQ's | by David Rinner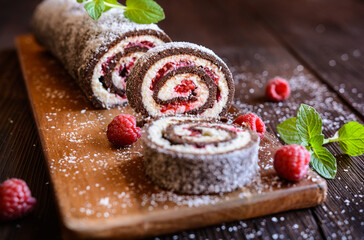 A Jelly Roll Pan is a flat and wide pan, most commonly made of aluminum material. It features 1 inch sides and is available in sizes of 10″ x 15″ and 12″ x 18″.
It is very similar to a rimmed sheet pan, and its purpose is to bake the sheet cakes or sponge cakes used in Jelly Rolls.
A Disposable Jelly Roll Pan would be made of Aluminum Foil material and can be disposed of, after baking.
Jelly Roll Pans can also be used for toasting nuts, roasting veggies or for baking cookies.
See other Similar Questions
What is a half size sheet or jelly roll pan
What is a standard size jelly roll pan